The Hospitality Center
The Breakfast room is the Hospitality Center of the Parish House Inn

"All of the baking is done from scratch. Great cookies! Wonderful breakfast! "A.T. Michigan
When you arrive
……you are welcomed by Chris Mason, the innkeeper, in the breakfast room/hospitality cent. After you sign the guest book, You'll get a quick tour of the area where the microwave popcorn, the bottomless cookie jar, a small refrigerator, tea are located.
The tables and chairs are for you to use for lunch, take out meal, or just visiting with friends. (The kitchen area is not available for guest use)
The Den
……is in the next room where there are two comfortable chairs to relax, read a book or enjoy a bigger screen TV. The ironing board and iron are available and used in this room.
After the Tour
Chris will show you to your room, and give you a tour of the room and answer any questions. There is a "Welcome Letter" in the room so you will not have to remember anything!
Breakfast
......is served Monday Friday from 7AM to 9 AM and on the weekends and holidays from 8 AM to 10 AM. I serve a farm-to-table breakfast using locally sourced ingredients when possible. All food is made from scratch. If you have any dietary issues, please let me know in advance so I can be prepared to meet your needs. Some of my recipes are available in my online cookbook, "7 Recipes to Get You out of Bed For Breakfast Everyday".
Ann Arbor-Ypsilanti area Parish House Inn Favorite recipes
Guest favorite recipes and activities for Fall
RECIPES: FALL FAVORITES
In our Ann Arbor-Ypsilanti, Michigan area, we can't wait for Fall to arrive. The house is filled with the aroma of cinnamon and nutmeg.
It's a colorful time of year and there is so much to see and do. I have shared some of my guest favorite recipes, places to go and things to do in my blog category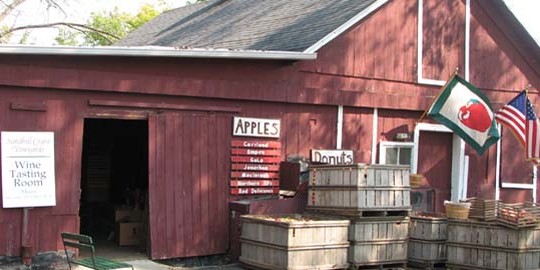 Plan a getaway for a day or more to visit all the local sites. Check our availability and book your room right on line.
I've lived here for many years and as our guest, you'll have insights to all the highways and byways, local farms and interesting places only the locals know.
Let me know if I can help you with your travel plans.
Chris Mason
Chef/innkeeper at the Parish House inn bed and breakfast for 24 years and author of her cook book
"7 Recipes to get You Out of bed For Breakfast Every Morning"

Contact information:
email: chris@parishhouseinn.com
http://www.parishhouseinn.com
telephone: 734-480-4800
Parish House Inn on Facebook