WEDDING NIGHT PACKAGE

Make your wedding night getaway as special as your wedding!
We've been welcoming brides and grooms for 24 years.
Bill's room 9 or Chuck's room 4 are the most popular for a wedding night getaway. When you book your room use the promo code WEDDING.
Then we'll make sure that:
The room will be softly lit to welcome you.
One dozen roses will fill the room with their scent.
Breakfast will be delivered to your room.
You'll receive a parting gift as a reminder of your stay.
INTERESTED?
GOOD ANY night for $199, plus tax.
Remember:
To make this happen, use the promo code WEDDING when you book your room.
"We only had time for a short honeymoon. And needed to find the right place. And we certainly did. The Parish House Inn totally exceeded our expectations. The room was beautiful and completely comfortable. The breakfast was delicious. Delivered to our room. We were on the 3rd floor and lovely view of the Huron River. We definitely would recommend The Parish House Inn and we certainly plan to return here again. "Bud & Cynthia Pugh.
Add an EXTRA and Make it a celebration
Make you getaway even more special. Add one of these to your room to make it happen.
To add it to your reservation, click on the EXTRAS tab when you book your room, email me or call 734-480-4800.
FRUIT, CHEESE AND BUBBLY $24.99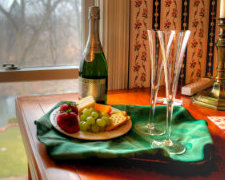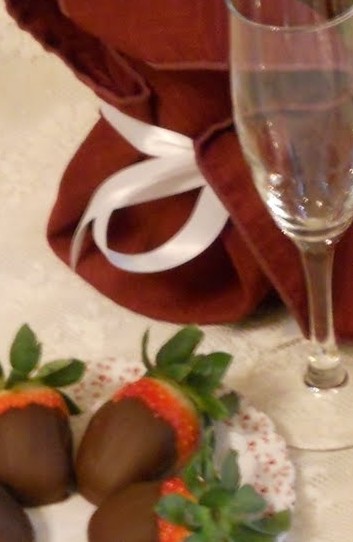 CHOCOLATE DIPPED STRAWBERRIES $14.99
ROSES AND CHOCOLATES $39.99