August 15, 2016
Winery Tours in Southeast Michigan
Posted by: Martha Cleary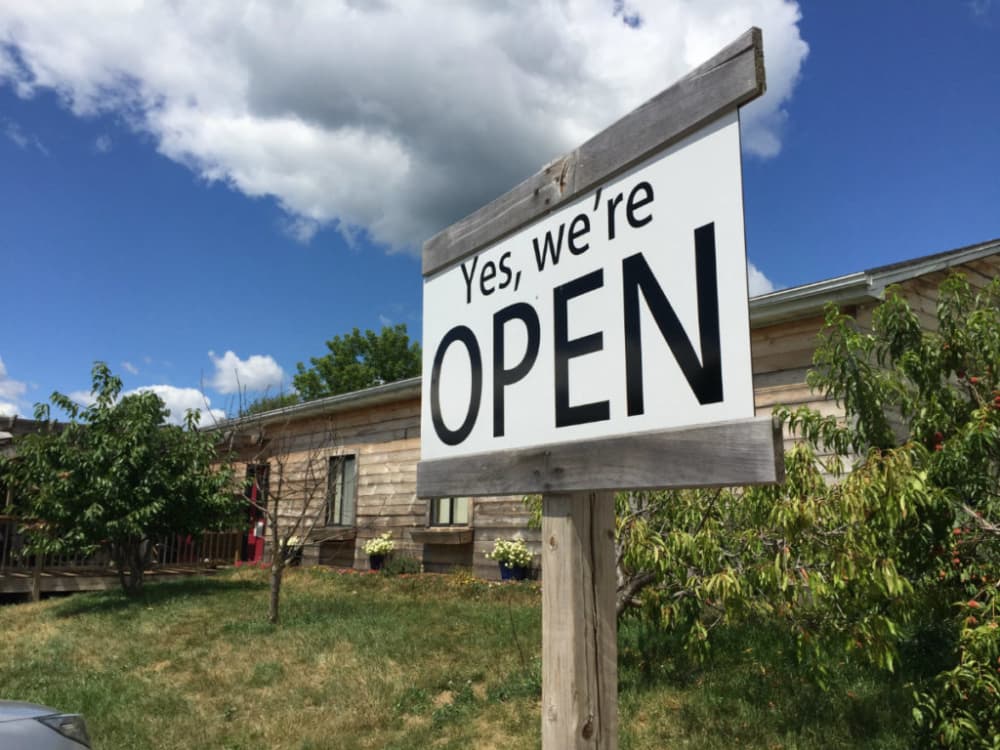 WEEKEND GETAWAY: WINERY TOURS
WHERE TO GO;
Sandhill Crane Vineyards, 4724 Walz road, Jackson, MI 49201
Chateau Aeronautique, 1849 Rives-Easton Road, Jackson, MI 49201
Lone Oak Vineyards, 8400 Ann Arbor Road, Grass lake, MI 49240
WHAT TO DO;
Explore three Southeast Michigan Vineyards and taste their wines. Talk to the vintners who provide unique insights into Michigan wine.

WHAT TO SEE;
Rolling hills of trees bursting with Fall color. Vineyards with fields of grapes ready to harvest. Small towns and by-ways of Southeast Michigan.
Winery Tours: the Hidden Gems in Southeast Michigan
Did you know that winery tours are offered every day? You can take and afternoon drive and explore Southeast Michigan's wineries. Most are one hour or less from the Parish House Inn. I chose these three wineries for this winery tour, because of their proximity to each other.

Some things you should know before going:
All the wineries charge a nominal fee for tasting
The fee goes toward your purchase of wine.
Discounts are offered for multiple bottle purchases.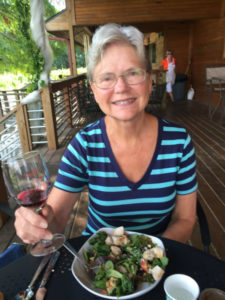 It was a lovely day for a winery tour with my daughter, Martha. We headed west on I-94 for the first stop on our winery tours. In only 45 minutes away is the Sandhill Crane Vineyards, and a few minutes north of I-94.
At Sandhill Cranes Vineyards, we had lunch from the cafe. We sat at a table on the porch where we experienced the wine tasting with our lunch. The characteristics of each wine was explained as they were poured, which made it easy to understand. The list of wines is always from white to red, dry to sweet. This is a large property with a tasting room, cafe, and banquet room.We saw the fields with rows of grapevines visible everywhere we looked.
OPEN: Tasting room:Mon – Sat 11AM -7PM, Cafe: 9:30 AM -7 PM
Sunday: Noon – 6PM.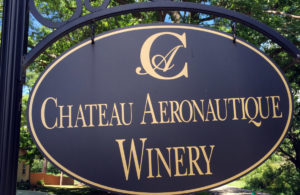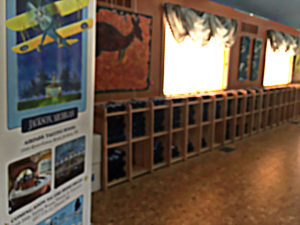 After lunch, we headed for our second winery tour, Chateau Aeronautique. It's 10 minutes away, which made it a short trip.
It's tucked away off a country road. Yes..there is a runway for small planes. A former pilot is the owner who has developed his dream into reality. As we entered the tasting room, the hand painted mural caught our attention. This room is a recent addition. As we sat at the oval bar, we noticed the much smaller original tasting room. Cassie said they outgrew that very quickly.
In the video, Cassie is describing the characteristics of the wine she is pouring. Many of the wines have won awards. The 2013 Naked Chardoney was the Michigan Wine Competition Bronze Medal Winner.
Our wine glasses are complimentary which means we will remember our visit. With each visit, repeat customers get more glasses. More visits, more glasses! (note; no food is served)
HOURS: Noon – 6PM daily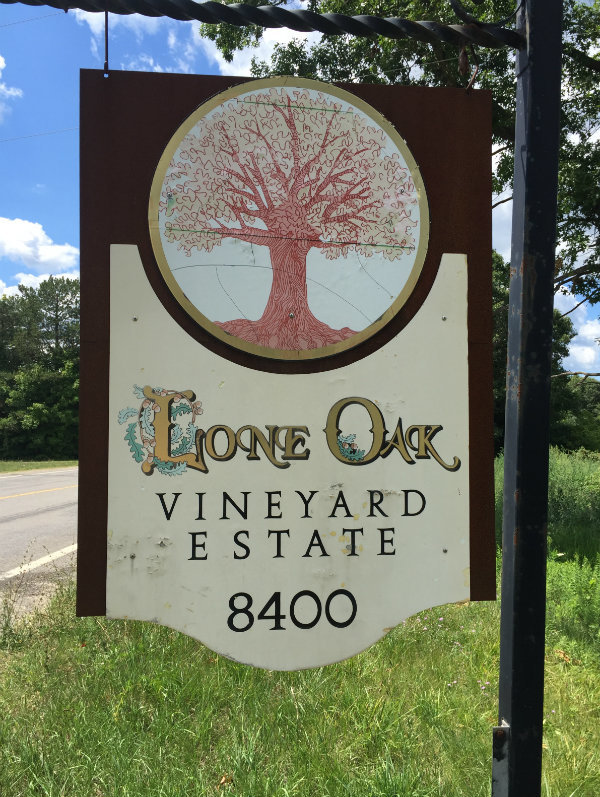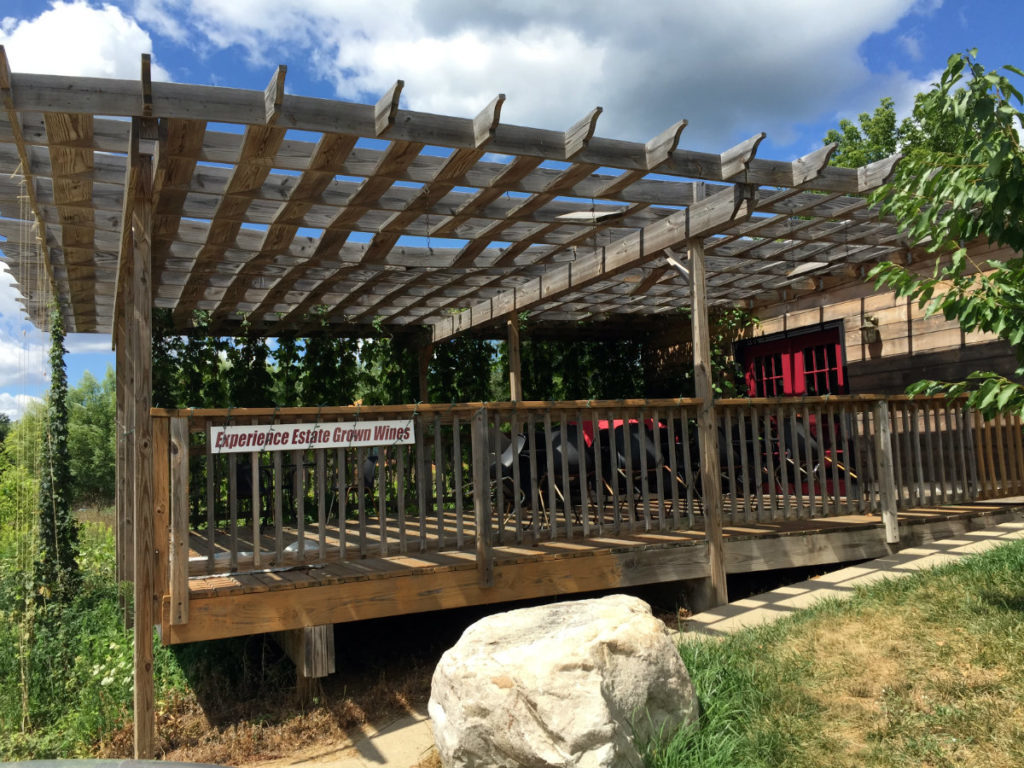 We headed south to I-94 and the last winery tour of the day, Lone Oak Vineyards estates.
It's located about 1 mile south of I-94 on Ann Arbor Road. We found out that all their wine is made from only vinifera – or classic European wine grape varieties grown on the property. In addition, grapes are hand-picked at the peak of ripeness in the Fall.Kip and Denise Barber planted their first field in 1997 and now have 24 acres of grapes.
We found the tasting room rustic and cozy. Because food is served, we nibbled on a couple of appetizers while tasting the wines. Denise oversees the tasting room, but most all she knows about the wine. See her talking about the wine we are about to taste in the video above. The large porch provides comfortable seating and a view of the vineyards.
HOURS: Mon – Sat, 11PM – 5:30PM, Sun, Noon – 5:30 PM.
In the Fall and winter, Saturday Candlelight Dinner concerts are from 6 – 9 pm by reservation.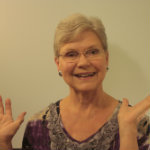 By Chris Mason, has been the Chef/innkeeper at the Parish House inn bed and breakfast for 23 years. To get a copy of her cook book "7 Recipes to get You Out of bed For Breakfast Every Morning"CLICK HERE.
Contact information:
email: chris@parishhouseinn.com
telephone: 734-480-4800