February 23, 2016
Maple Syrup in Michigan
Posted by: Martha Cleary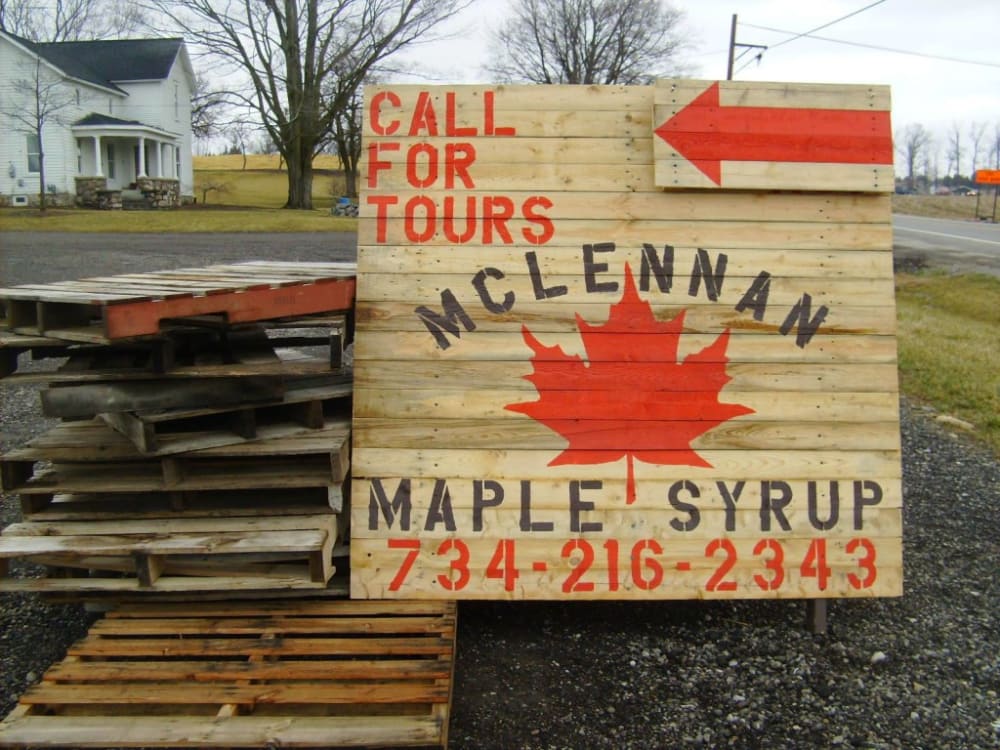 MARCH IS MAPLE SYRUP TIME IN MICHIGAN


by Chris Mason
McLennans Gardens
10950 M-52
Manchester, MI 48158
Contact information and to book a group tour;
(734) 216-2343
If it's March it's time for Maple Syrup in Michigan. So on a sunny Saturday in March, when the weather had been cold at night and warmed quickly during the day all week, we knew it was time for a road trip to Mc Lennans Gardens. This small family owned landscape business is just outside of Manchester, Michigan, but is all about maple syrup in March. It's 30 minutes from Ypsilanti, Michigan, going west on I-94 to the exit for M-52 and then 14 miles south. It's on the right side of the road and the sign is large and easy to see. When you pull into the parking lot and look around, we saw the sugar house, the store, a house and acres of maple trees.
The owner, Mike, suggests that we visit the sugar shack to see the wood burning evaporator at work. An evaporator of this size uses one cord of hardwood for every 25 gallons of syrup, with one person constantly tending the fire. I can only imagine how many people it takes to collect 40 gallons of sap to make one gallon of maple syrup. It is the oldest agricultural enterprise in the United States, and is the first farm crop harvested each year. Businesses and people like Mike are just continuing this history.
We leave the sugar shack and head over to the store where the maple syrup is on display in lovely leaf shaped bottles and plastic jugs. Their logo tee shirts, honey and other gift items are also for sale. We browsed through all of it and finally made our selection of maple syrup and called it a day. We will take it home and serve this maple syrup with our breakfast pancakes in the morning!




By Chris Mason
Innkeeper and chef at the Parish House Inn and the author of
"7 recipes plus tips to get you out of bed for breakfast everyday"

Contact information:
734-480-4800