June 29, 2016
Gazpacho Soup with Fresh Tomatoes and Herbs
Posted by: Martha Cleary
Gazpcho Soup With Fresh Tomatoes and Herbs

Gazpacho Soup, a classic cold soup, is so good on a hot summer day, isn't it? If you haven't tried making your own, this is the recipe for you. Here in the Ann Arbor-Ypsilanti area, there are many Farmer's Markets to find fresh locally grown produce. If you grow your own tomatoes and peppers, even better.

Many years ago I went to the Detroit InstituTe of Arts with my daughter. I purchased one the cook books, of course. In this cook book there was a recipe for Gazpacho Soup that I tried and liked. This recipe called for canned tomatoes, but I wanted to use fresh ingredients.

So I experimented with fresh ingredients, and this is the recipe I developed. I get fresh tomatoes, cucumbers, peppers and herbs from the Farmers Market. No cooking required. It's low in calories and high in flavor. I like to prepare it early in the day and store it in the refrigerator for one day or longer. This allows for the flavors to blend together.

To serve it , I use a pretty bowl or even a martini glass. Garnish of sour cream or yogurt and some chopped fresh basil and chives.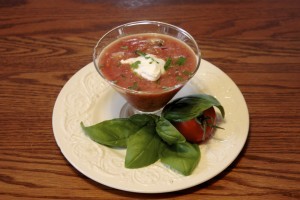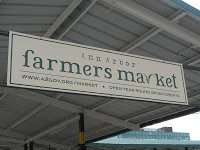 GAZPACHO SOUP WITH FRESH TOMATOES AND HERBS
2 cloves garlic
2 tablespoons red wine vinegar
3 tablespoons olive oil
1 cup white bread (without crusts), torn into pieces
4 cups diced fresh tomatoes
1 green pepper, diced
1 cucumber, peeled, seeded and diced
1/3 cup radishes
¼ cup red onion. diced
2 tablespoons fresh parsley, minced
2 cups tomato juice
½ cup ice water
½ cup fresh basil, snipped
garlic croutons
Greek Yogurt
1. In a food processor, puree the garlic, vinegar, oil, and bread. Transfer this mixture to a large bowl.
2. Add the diced vegetables, parsley and tomato juice to the bowl. Mix well.
3. Put in a container and chill in the refrigerator for several hours or overnight, which will allow flavors to develop.
4. Before serving, you may have to stir in enough ice water to thin the soup to the desired consistency.
5. Mix in the fresh basil.
6. Serve this Gazpzcho Soup in pretty cups with garlic croutons, a spoonful of Greek Yogurt and a a sprinkling of snipped basil.
Enjoy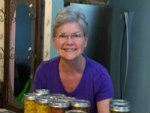 By Chris Mason, Chef/innkeeper at the Parish House inn bed and breakfast and author of the cook book "7 Recipes to get You Out of bed For Breakfast Every Morning"
Contact information:
734-480-4800
www.parishhouseinn.com