June 2, 2017
Fresh Corn Fritters for breakfast
Posted by: Martha Cleary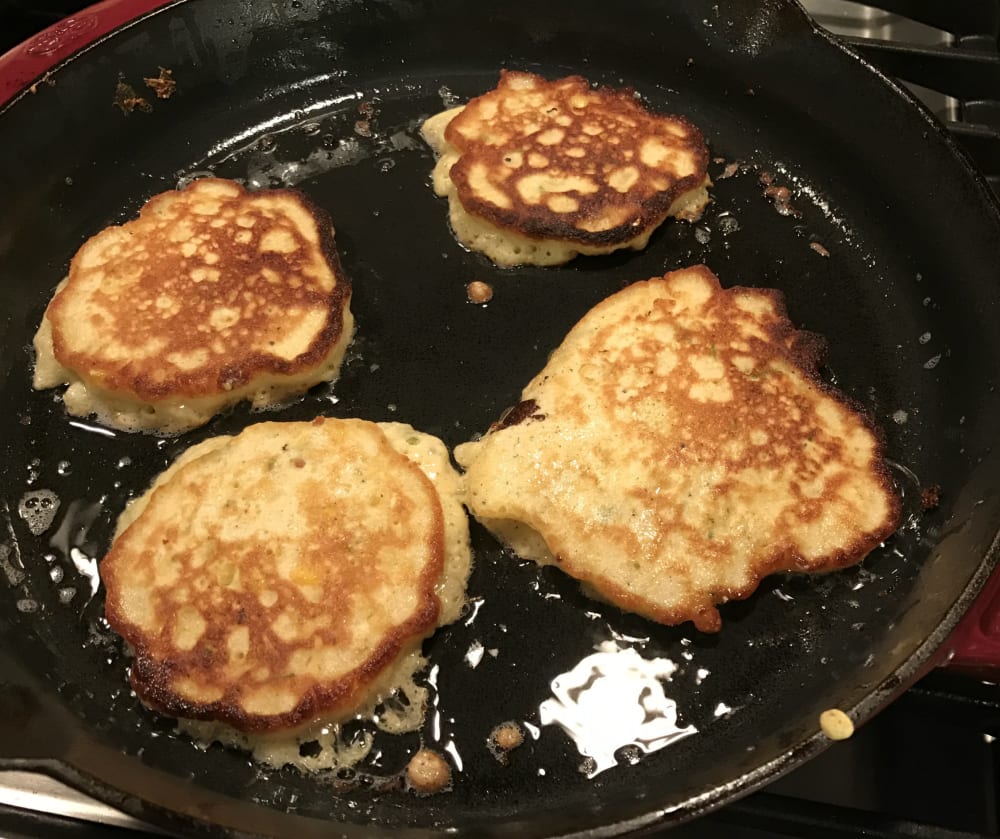 CORN FRITTERS
Serves 6
Who doesn't like fresh corn on the cob? If you have a couple of ears left from dinner, you can use this recipe and turn it into breakfast pancakes. I like to serve it with crispy bacon and scrambled eggs. Yes...maple syrup is delicious with it. After all, corn is, well "sweet", right?
You can also make these savory by adding some chives, parsley and pepper. Serve it with ham or even smoked meats for dinner. Enjoy, Chris Mason

Ingredients:
½ cup yellow corn meal
½ cup all-purpose flour
¼ teaspoon salt
2 teaspoons sugar
1 ½ teaspoons baking powder
2 large eggs, lightly beaten
2/3 cup milk
¼ cup butter, melted and cooled
1 cup whole kernel corn, cooked
1 teaspoon prepared yellow mustard
½ cup (2 ounces) shredded cheddar cheese
vegetable oil for frying
warm maple syrup
Method:
1. In a large bowl, mix together cornmeal, flour, sugar, salt and baking powder.
2. Add corn and cheese.
3. In a small bowl, stir together eggs, milk, mustard and melted butter.
4. Add the liquid ingredients to the dry ingredients and lightly stir to mix. Do not over beat.
5. Let the batter rest for 3 – 5 minutes.
6. Heat 2 tablespoons of oil in a large skillet. (Or preheat an electric griddle to 350o and brush with oil.) When the skillet is hot, add tablespoons of batter. Cook about 1 minute, until golden around the edges. Turn over and cook the other side for 1 minute until done. Repeat with remaining batter, adding more oil as necessary.
7. Serve immediately or keep warm in a low oven.
8. These freeze well.
9. Serve with warmed maple syrup for breakfast.
By Chris Mason
Chef/innkeeper at the Parish House inn bed and breakfast for 24 years and author of her cook book
"7 Recipes to get You Out of bed For Breakfast Every Morning"

Contact information:

email: chris@parishhouseinn.com
http://www.parishhouseinn.com
telephone: 734-480-4800
Parish House Inn on Facebook