November 7, 2017
Cranberry Scones with Cranberry Butter at Ypsilanti's Parish House Inn
Posted by: Martha Cleary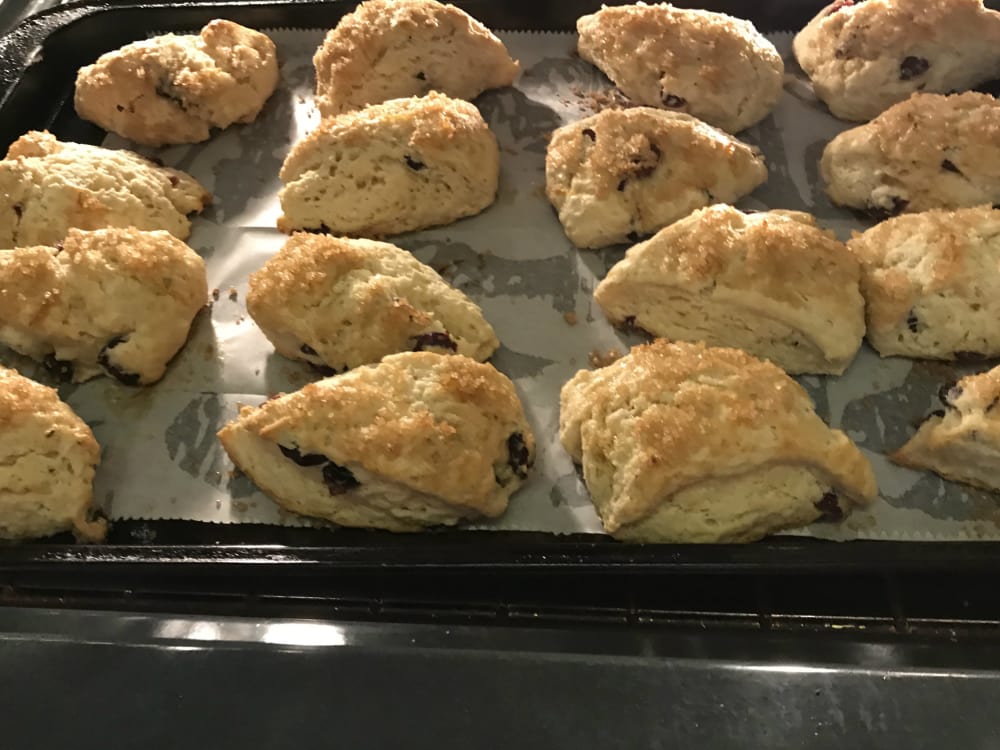 Serve the flavors of the season with these cranberry orange scones served with cranberry butter.
I mix the dough the day before serving, then divide the dough in rounds and wrap and store in the refrigerator. In the morning I put them on the baking sheet, brush with the egg white, top with the sugar and bake.( NOTE: if you can chill the dough for even an hour, they will bake up light and fluffier.)
Perfect for Holiday entertaining and overnight guests!
CRANBERRY ORANGE SCONES
Yield: 16 scones

3 cups all-purpose flour
1/3 cup sugar
2 1/2 teaspoons baking powder
1/2 teaspoon baking soda
1/2 teaspoon salt
1 1/2 sticks unsalted butter, cut into small pieces
3/4 cup dried cranberries
1 teaspoon orange zest
1 1/4 cups buttermilk
1 egg white
1/4 cup sugar
1 teaspoon orange zest
Preheat oven to 400 degrees
In a food processor, put the flour, sugar, baking powder, baking soda and salt.
Add cut up butter and process until mixture looks like coarse cornmeal.
Transfer mixture into a large mixing bowl.
Add cranberries and orange zest, stir to mix.
Add buttermilk and mix until blended.
Gather dough into a ball and place on a lightly floured surface.
.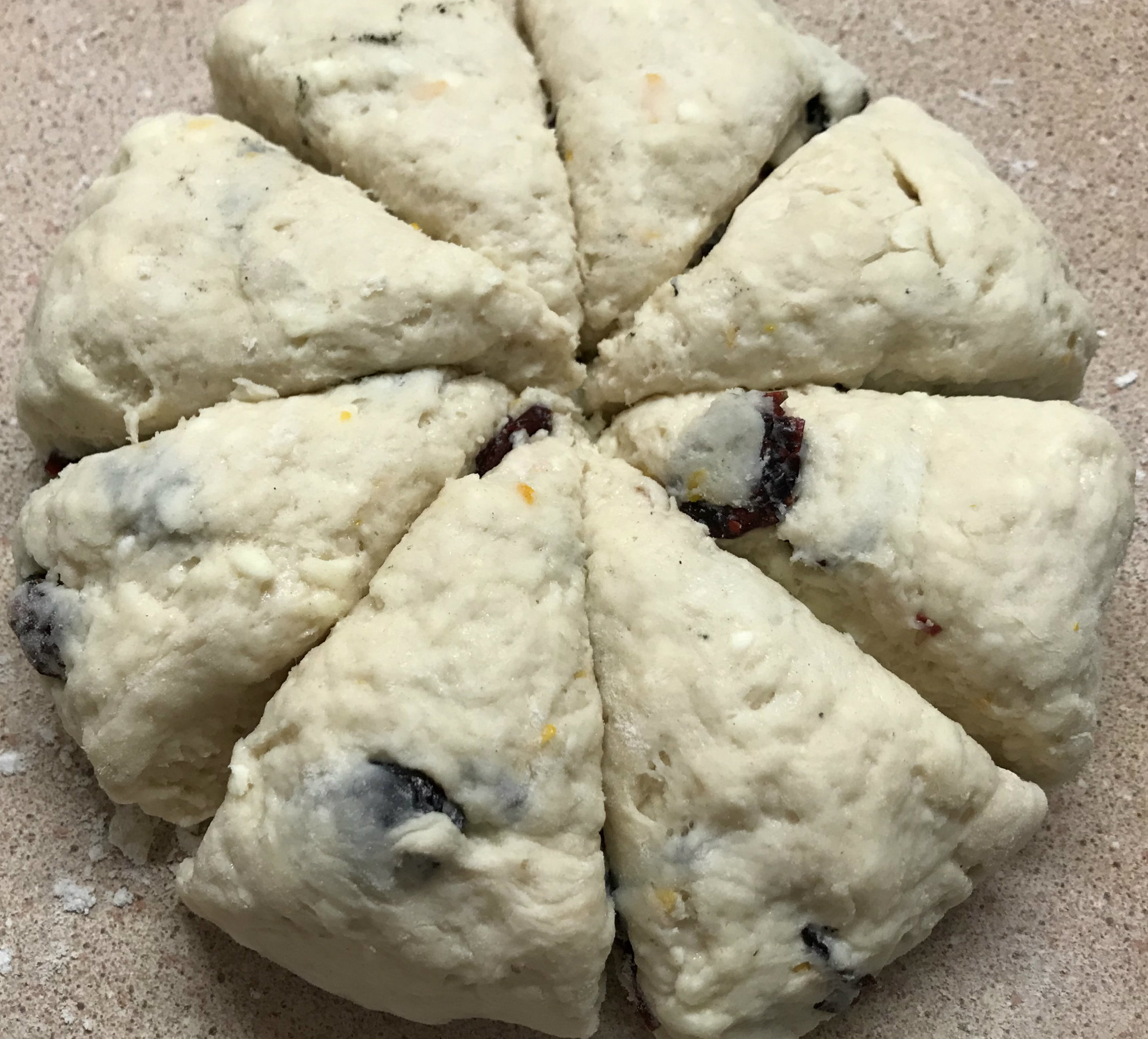 Knead the dough 4 - 5 times and divide in half.
Pat into 2 circles about 1/2 to 3/4 inch thick
Cut each circle into 8 wedges.
Place on a baking sheet that has been coated with cooking spray ,
or line with parchment paper.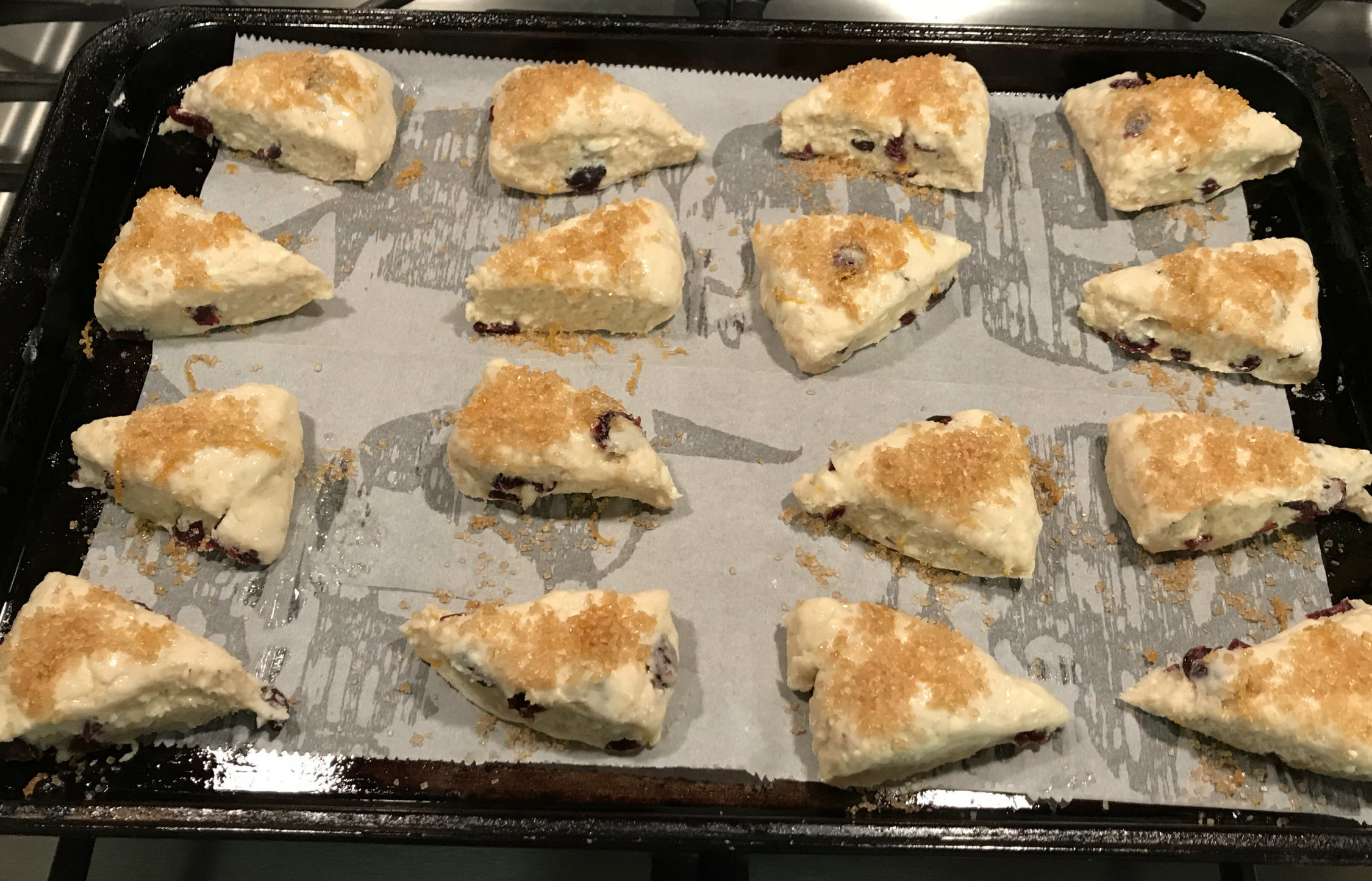 Brush with beaten egg white and top with sugar mixture
Bake for 12 -15 minutes or until golden.
Serve hot or cool to room temperature and freeze.
Cranberry Butter
1 stick (1/2 cup) unsalted butter, room temperature
2 tablespoons coarsely chopped cranberries
2 tablespoons light brown sugar
1 tablespoon honey
1/2 tablespoon ground walnuts
1 teaspoon each orange zest and lemon zest
1 tablespoon buttermilk
In a large bowl, whip butter at high speed with electric mixer until pale yellow.
Add all ingredients except buttermilk and whip until mixture is light pink.
Add buttermilk and whip until incorporated.
Store any leftovers in the refrigerator.
" I'll be serving these to my guests during the holidays. Book your room for your getaway now or refer us to you visiting family and friends."
By Chris Mason
Chef/innkeeper at the Parish House Inn for 24 years and author of her cook book

"7 Recipes to get You Out of bed For Breakfast Every Morning"

Contact information:
email: chris@parishhouseinn.com
http://www.parishhouseinn.com
telephone: 734-480-4800
Parish House Inn on Facebook