June 17, 2016
Banana Sour Cream Cake
Posted by: Martha Cleary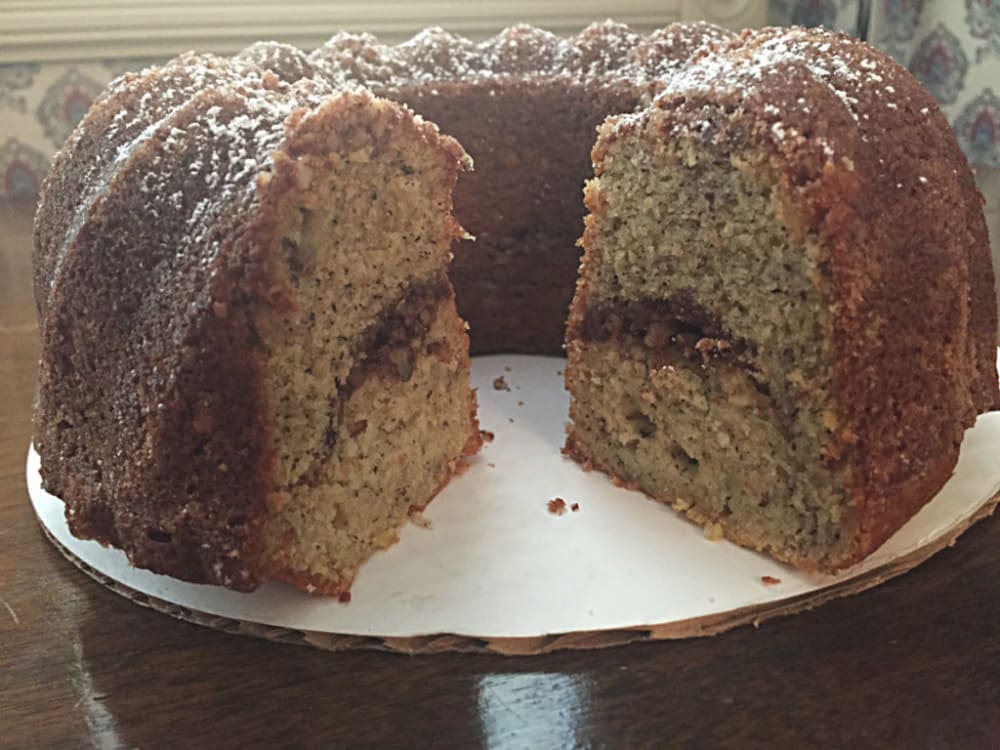 Banana Sour Cream Cake

is a perfect way to make something delicious from bananas that are over ripe. This recipe doesn't make a huge cake, so you can use a smaller Bundt cake pan. I suggest that you have all the ingredients at room temperature. It will mix together better giving you a very tender cake. I like to use about half the cinnamon sugar mixture to dust the inside of the pan. When the cake is turned out, it has a nice sugary coating. You won't need to do much to enhance it.
I like to sprinkle powdered sugar on top when serving this Banana Sour Cream Cake for breakfast here at the Parish House Inn. For a dessert, use a simple sugar icing drizzled over it topped by chopped chopped pecans. What's not to like?
Anyway you serve it, it is a winner. Now you know what to do with those over ripe bananas. We serve it often here at the Parish House Inn where we are located in the Ann Arbor-Ypsilanti area.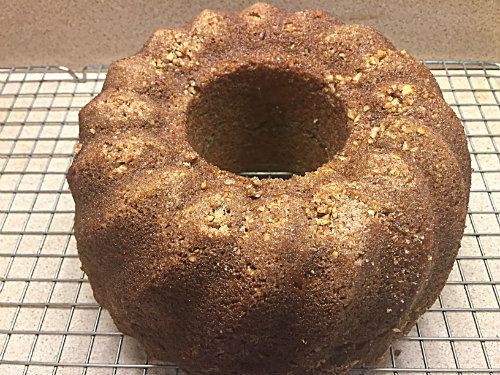 BANANA SOUR CREAM CAKE
Yield: 1 – 10 inch Bundt cake
¼ cup sugar
½ cup chopped pecans
1 teaspoon cinnamon
1 cup sugar
½ cup butter, softened
2 large eggs
1 cup mashed bananas
½ cup sour cream
½ teaspoon vanilla
2 cups all-purpose flour
1 teaspoon baking powder
1 teaspoon baking soda
¼ teaspoon salt
Preheat oven to 350o. Coat a 12 cup bundt pan with cooking spray.
Stir together the ¼ cup sugar,chopped pecans and cinnamon. Sprinkle half of the mixture in the bottom of the bundt pan and swirl around to coat up the sides. Then shake it to distribute the pecans on the bottom. Set aside.
In a large mixing bowl, beat the butter at medium speed of an electric mixer until creamy. Gradually add the 1 cup of sugar, beating 6 – 7 minutes.
Add eggs 1 at a time, beating until the yellow disappears. Add the sour cream, mashed banana and vanilla.
Combine the flour, baking powder, baking soda and salt. Add to the creamed mixture and beat on slow speed until just mixed together.
Scoop one half of the batter into the prepared pan, smoothing the top. Distribute the cinamon sugar mixture evenly over the the batter. Top with the remaining batter, smoothing the batter evenly.
Bake for 45 minutes or until a toothpick comes out clean and the top springs back when lightly touched. Cool in the pan for 10 minutes. Remove from the pan by turning it over onto a wire rack. Cool completely.
To serve sprinkle with powdered sugar or a simple icing of powdered sugar and milk.



By Chris Mason, Chef/innkeeper at the Parish House inn bed and breakfast and author of the cook book "7 Recipes to get You Out of bed For Breakfast Every Morning".
Contact information: chris@parishhouseinn.com
telephone: 734-480-4800
www.parishhouseinn.com